I have not seen any reviews on here so I thought I would do one for anyone interested.
Also I have never owned a Nike glove before so I have nothing to really compare to inside the brand.
I bought this glove for $300 off of homerunmonkey, and they kinda messed up a little and sent me 2 of them, so I actually got a decent deal because I would not say that this is a glove worth $300 for 1. I sold one of them immediately so I dont have any pictures of it out of the box unfortunately.
My first impression after removing the package was where is the mallet and bag?!?!? After that disappointment I removed the glove from the plastic wrap to find that these do not come very stiff at all. That is not to say that the glove does not hold its shape well, its just that the leather is very soft. Also the pinky feels like there is not stabilizer and can be bent any direction with ease. This is different with the thumb which felt like it had a piece of metal inside of it...
Also to be noted is that the laces on this glove are very thick. I'm not an expert with lace sizes but to compare the laces around the heel are the same as what rawlings uses on their gloves. Then on the web and top of the fingers the laces are huge. Not sure if this is a nike thing or not.
Then after putting it on my hand I noticed how large this glove is. Overall it is huge for an 11.5 with a massive modified trap web and a very deep pocket for a glove thats supposed to be a 11.5. I cant complain being a pitcher I'd rather have a bigger 11.5 then a smaller one, although it should be noted.
After having the glove for 2 weeks now I can tell you that this glove requires pretty much 0 break in time. I'm not even a person who ever rushes a break in, as it took me about 6 months to get my rawlings pp into what i thought was game ready. Although after playing "couch catch (on a desk chair)" for a day I thought it was ready for real catch. I took it to practise next day and caught well with it, and after about a week I was able to pitch in a game with it, with confidence.
For anyone interested in this glove beware that this glove will not close thumb to pinky. No matter how hard you try it wants to go to the middle of the ring and middle fingers.
To the pictures:
Sorry about the background in the pictures. Hard to find a spot in a dorm room that a phone camera can capture the true colours.
Huge middle bar on the web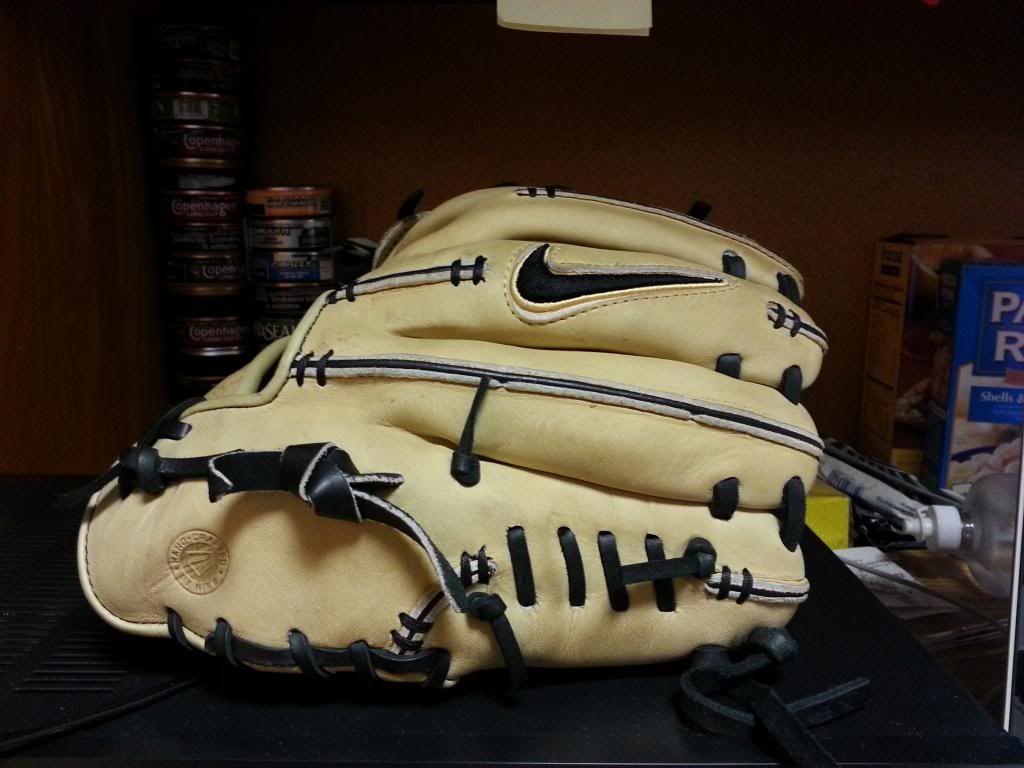 Heel has literally no padding and wants to crease in the middle to form with hand
Size comparison, both are 11.5in modified trap gloves.